best in show
world veteran winner '2011
ii top veteran OF all breEds '2011
top SIBERIAN husky 2011
MULTI CHampion & veteran champion & WINNER &
veteran best in show
"OGre veteran Winner 2014"
2 X BEST IN SHOW PROGENY
JALERRAN'S NANOOK LAST CRUSADE
'CRUZ' or "Lord Of The Rings"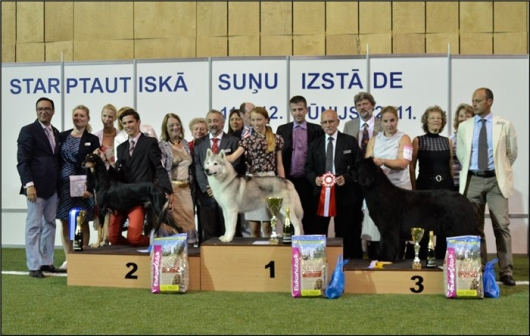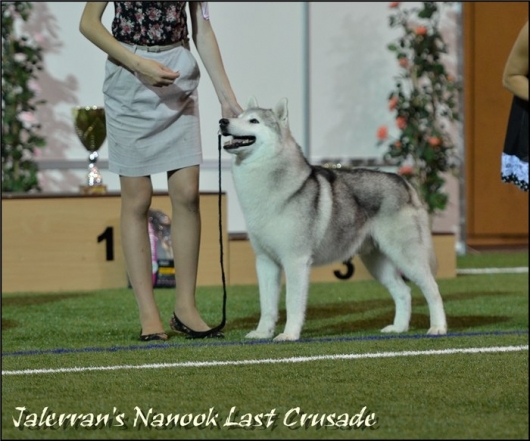 DOB - 27.JAN.2003
Height - 58 cm
UNAVAILABLE FOR STUD OUTSIDE KENNEL!
BREEDERS: JESSICA ZERFOSS (USA), Jalerran's Kennel
ANNETTE DIONNE (CAN), Nanook Kennel
OWNERS: D. & DZ. OZOLS (LATVIA), www.husky.lv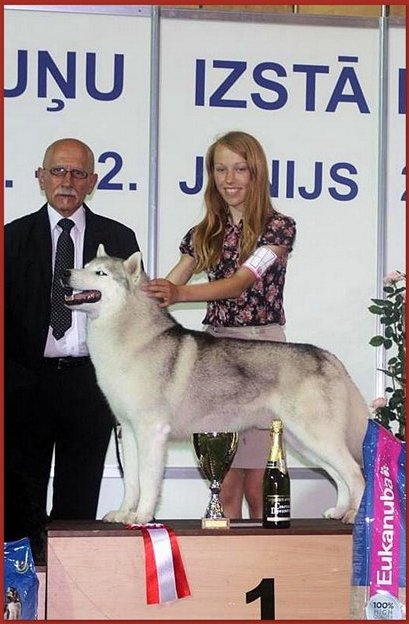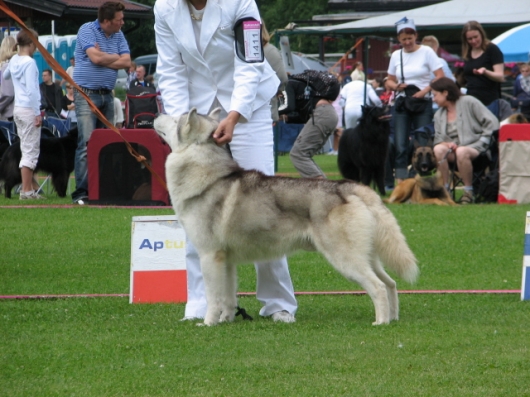 Titles:
Canadian Champion
International FCI Champion
Latvian Champion
Estonian Champion
Lithuanian Champion
Baltic Champion
Finnish Champion
Latvian Veteran Champion
Lihuanian Veteran Champion
Estonian Veteran Champion
Baltic Veteran Champion
Latvian Winner 2007
Estonian Winner 2007
Lithuanian Winner 2008
Latvian Winner 2010
Latvian Veteran Winner 2011
"Cruft's" qualification 2008"
"Cruft's" qualification 2009"
"Cruft's qualification 2012"
13* x CACIB
BISS – 2. & 3.&5. place
Multi Veteran BEST IN SHOW Speciality
Multi Veteran BEST IN SHOW places I II IV V
BIG – 1 x 3, 2 x 2, 1 x 3
Multi BOB & BOO winner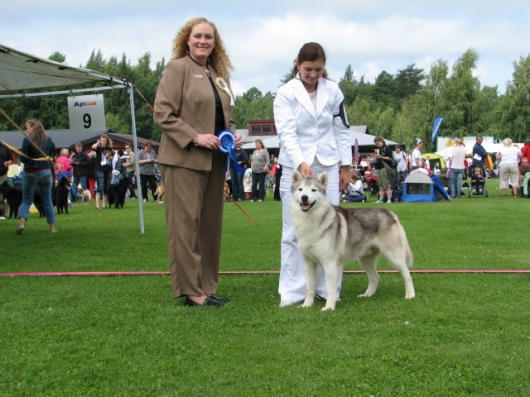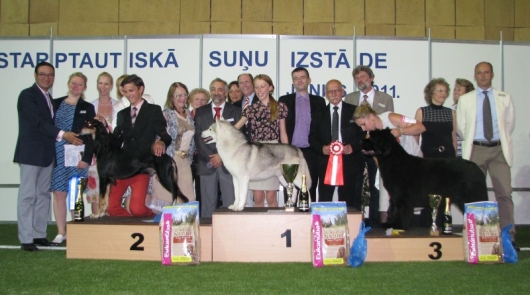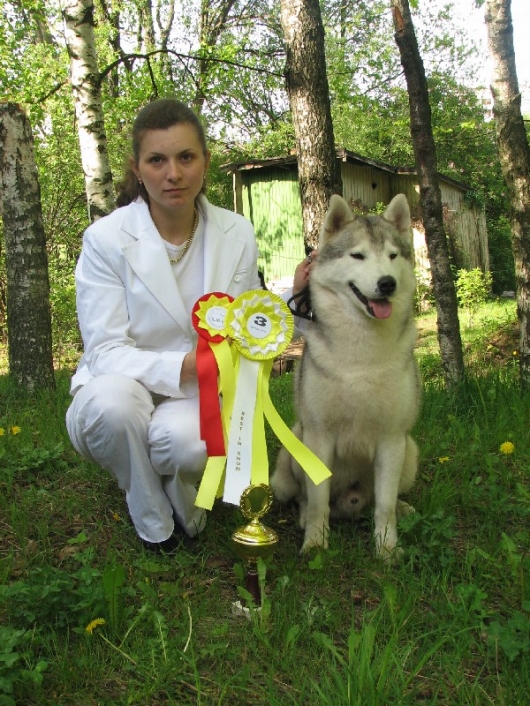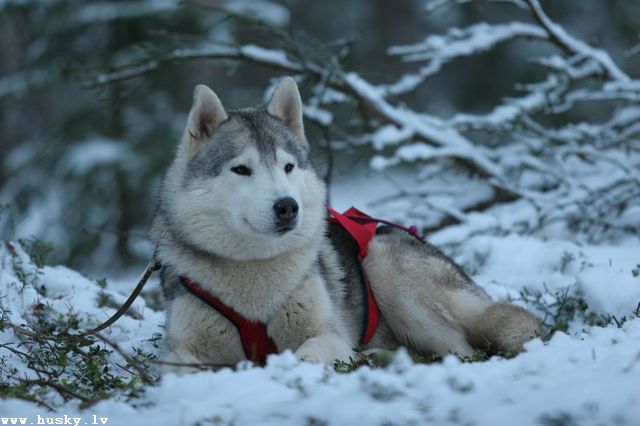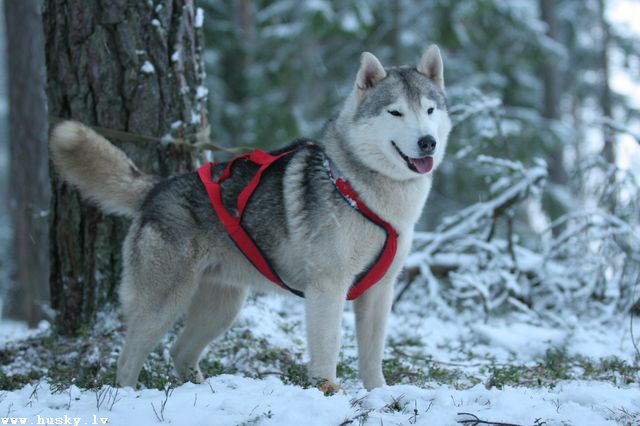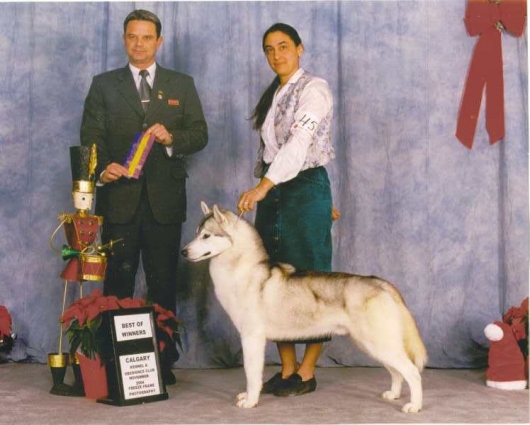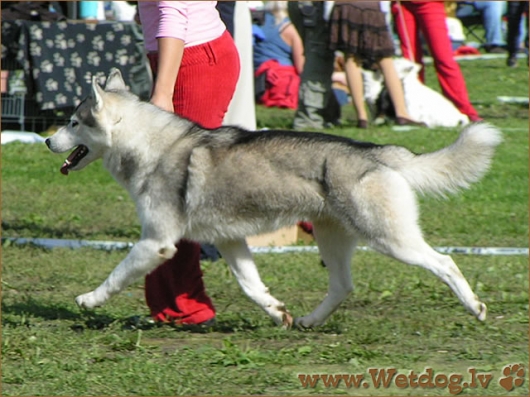 Pedigree
http://www.pawvillage.com/pedigree/pedigree.asp?ID=870HA6GPDF
SHOWS
28.03.2010. Riga(LV) – CACIB+W - Jorgen Hindse (Denmark) – excellent, CQ,CACIB,WINNER
29.07.2009.Helsinki (FIN) – CAC – Meredith K. Cavanna (USA) – excellent,CAC, BOO, FIN CH
14.06.2009.Riga(LV) – CACIB – Gerard Jipping (Netherland) – excellent, CQ, CACIB
13.06.2009.Riga(LV) – CACIB – G.N.Pedersen (Norway) – excellent, CQ, CACIB
10.05.2008.Riga(LV) – 5.gr.spec. G.N. Pedersen (Norway) – excellent, CQ, BOB, BISS 3
04.03.2008. Vilnius(LT) – CACIB+W - Ralf Campbell (Norway) – excellenti, CAC, N, BOO, WINNER
10.11.2007.Riga(LV) – BW'07 – Elina Tan-Hietalahti (Finland) – very good
30.06.2007.Parnu(EST) – CACIB – Tomas Rohlin (Denamrk) – excellent, CACIB, BOO
03.06.2007.Tallin(EST) CACIB+W - Diogo Ramalho (Portugal) – excellent, CACIB, BOO,WIN
20.05.2007.Riga(LV) - CACIB – Karl Erik Johansson (Sweden) – excellent, CQ,CACIB
19.05.2007.Riga(LV) - CACIB – Anatoly Zhuk (Belarus) – excellenti,CQ, R.CACIB
17.03.2007.Riga(LV) - CACIB+W- Barbka Noavk (Slovenia) - excellent,CQ,CACIB,BOO,WINNER
18.11.2006. Riga (LV) - CACIB - Janusz Opara (Poland) – excellent,CQ, CACIB, BOO
10.09.2006. Ventspils(LV) - CAC - Marina Ostrovska (Russia) - excellent ,CQ,BOB,BIG 1
20.08.2006.Tallin(EST) - CAIB+W –Leni Nousiainen (Finland) – excellent, R.CACIB
12.08.2006. Ozolnieki(LV) - CACIB – Ewa Nielsen (Zviedrija) - teicami,CQ
05.08.2006. Vilnius(LT) – CACIB – M.Macijewski (Polija) – teicami, R.CACIB
17.06.2006. Ogre (LV) – CAC –Z.Munsteirhiem-Ehnberg(Finland) – excellent, CQ,BOO
11.06.2006. Helsinki(FIN) – CACIB + EW'06 – Matti Touminnen (Finland) –very good
04.06.2006. Tallin(EST) – CACIB+BW'06 – Nils-Arne Tornlov (Sweden) – excellent, R.CACIB
20.05.2006. Valmiera(LV) – CACIB - Ove Germundsson (Sweden) - excellent,CQ,CACIB,BOO = LVCh
22.04.2006. Riga (LV) -5.gr.spec. – Vija Klucniece (Latvia) – excellent, CQ,BOB
18.03.2006. Riga(LV) -CACIB+W - Živile Povilaitiene (Lithuania) - excellent,CQ
17.12.2005. Riga(LV) 5.gr.spec. J.Stanizewska – Borkovska (Poland) - excellent, CAC, BOB
03.12.2005. Vilnius (LT) - CACIB - Chan -Weng Woh (Malaisia) - excellent,CAC,N, CACIB,BOB
28.08.2005.Tallin(EST) - CACIB – Ole Staunskjaer (Denmark) - excellent, CAC,CACIB,BOB = EST CH
19.11.2005. Riga(LV) - CACIB - Tibor Havelka (Slovakia) - excellent
18.06.2005.Ogre (LV) - CAC -Kiril Barbosov (Russia) - excellent,CQ,CAC,BOB,BIG-2
22.05.2005.Valmiera (LV) - CACIB - Svetlana Radjuk (Belarus) - excellent,CQ,CACIB,BOB
21.05.2005. Riga (LV) – 5.gr.spec. – Vija Klucniece (Latvia) - excellent ,CQ,CAC,,BOB, BISS 5
Total 28 dog Shows
26 x excellent - 3 x Winner
2 x very good - BIG - I & II place , 1 x BISS 3 &BISS 5
12 x CACIB
4 x R.CACIB